Publications
See for updates news
Book "Revealing the Invisible, The Art of Stansfield/Hooykaas from Different Perspectives"
'The work of Stansfield/Hooykaas is a celebration of the movement or flow of life. […] In fact it is the miracle we experience every day and that we rarely stop and think about.'
Janneke Wesseling (in 'Revealing the Invisible')
Elsa Stansfield and Madelon Hooykaas are pioneering multi-media artists who experimented with the very latest audio-visual technologies and innovations. Their films, sculptures and installations are about space and time: the cycle of the seasons, the tides, and natural elements such as radio waves and magnetic fields. In nearly all their work they explicitly refer to the earth and nature.
The two artists believe that technology and science are not at odds with art, but are a part of it.

In 11 essays, international authors reflect on the work of Stansfield/Hooykaas. The duo's oeuvre comprises 150 works; its many layers intrigue the viewer.

Art historians, scientists, philosophers and artists discuss Stansfield/Hooykaas' work from varying and unexpected angles, making 'Revealing the Invisible' a unique voyage of sensory discovery.
Edited by Madelon Hooykaas and Claire van Putten
11 essays / 336 pages / incl. DVD (60 minutes)
richly illustrated / full colour / cloth binding
Design by Hansje van Halem
Published by De Buitenkant, Amsterdam, NL, 2010
ISBN 978 94 90913 03 8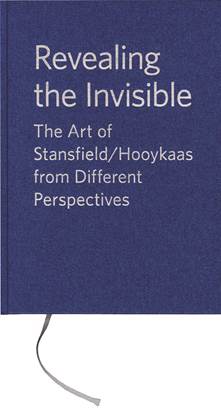 To order by sending an email to: madelonh@euronet.nl
Book "ZAZEN NU" (Dutch)
 Het dagelijks leven in een Japans zenklooster
Madelon Hooykaas en Nico Tydeman
Na bijna veertig jaar keert beeldend kunstenaar Madelon Hooykaas terug naar een Japans zenklooster. In het traditionele Soto-Zen trainingsklooster Bukkoku-ji in Obama neemt zij deel aan het dagelijks leven en mag zij foto's maken en filmen. Het boek geeft een beeld van haar ervaringen in het klooster, aan de hand van unieke verstilde foto's en persoonlijke dagboekaantekeningen.

Nico Tydeman schetst in zijn essay 'Laboratorium van de Geest' de historische ontwikkeling van het zenklooster. Bij de transmissie van China naar Japan speelt Dogen Zenji (1200 – 1253), de grondlegger van de Soto school, een cruciale rol. Teksten van hem zijn bij de foto's geplaatst. De monniken van Bukkoku-ji leven nog steeds volgens het monastieke model van Dogen.
Een boek dat inzicht en verdieping geeft in zen. Een uniek verslag in woord en beeld van een verblijf in een traditioneel Japans zenklooster

Madelon Hooykaas (1942) is een internationaal bekende beeldend kunstenaar, zenboeddhist en auteur van het unieke fotoboek ZAZEN uit 1971.
Bijna veertig jaar later keert zij terug naar een Japans zenklooster en doet verslag in woord en beeld.

Nico Tydeman (1942) is zenleraar, geestelijk leider van Kanzeon Sangha met groepen in Amsterdam, Rotterdam en Utrecht en auteur van enkele
boeken over zen. Hij verbleef in 1986 drie weken in Bukkoku-ji, een Soto trainingsklooster in Obama, Japan.
ZAZEN NU

Het dagelijks leven in een Japans zenklooster
Door: Madelon Hooykaas en Nico Tydeman
ISBN: 97890 202 03813 Geïllustreerd
Blz.: 160
gebonden
Prijs: € 34,95
Ankh-Hermes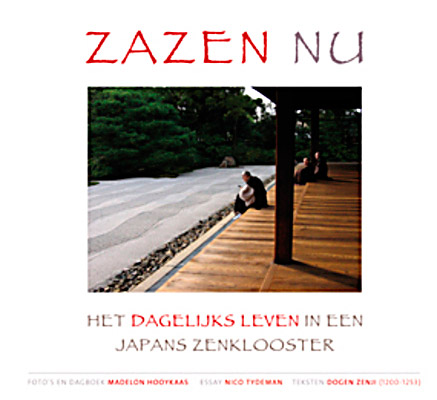 Te bestellen door een email te zenden naar madelonh@euronet.nl